Share feedback
Thanks for sharing your feedback!
Introduction
Creating a network forms the backbone of your secure, cloud-based infrastructure on Perimeter 81. This guide will walk you through the process.
Steps
Select Create Network on the Networks tab.
Fill in the following:
Network Name: A name for the Network you are building. For example, HQ, Finance, or Staging.
Icon: Use the default or select an icon of your choice.
Region: The region is where the gateway will be deployed, for optimal performance, it is recommended to deploy the region as close as possible to the end users.
Gateways: The number of gateways you want to deploy in a particular region.
Network Tags: Use tags to help identify the different purposes and/or teams your Network will support.
Subnet: Optional. If the subnet is not specified, it will receive a default value of 10.255.0.0/16; possible subnets and bit masks can be found in this FAQ.

The subnet cannot be changed after its creation.
Your Subnet cannot be changed after the Network is created. Please ensure the selected Subnet won't overlap with the subnets you use in your on-premises and cloud-based networks.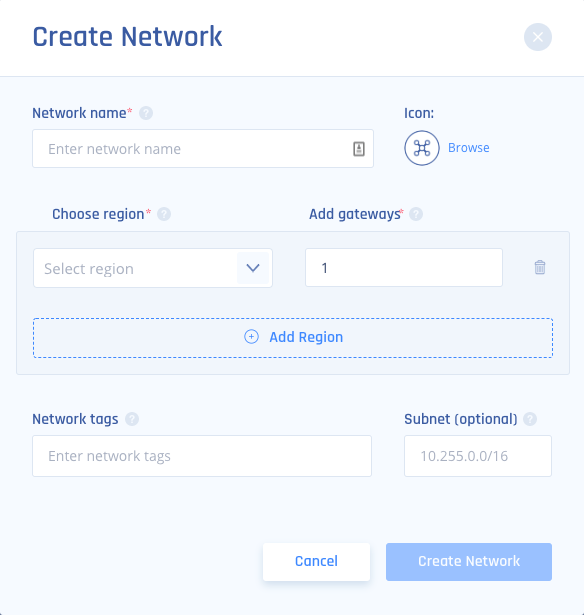 Related Articles
Troubleshooting
Issue: "Network creation failed" error message.
Solution: Ensure you have the necessary permissions to create a network.
If the issue persists, try [refreshing the page](https://support.perimeter81.com/docs/logs?highlight=logs) or [logging out and back in](https://support.perimeter81.com/docs/logs?highlight=logs).
Support Contacts
If you have any difficulties or questions, don't hesitate to contact Perimeter 81's support team. We offer 24/7 chat support on our website at Perimeter81.com, or you can email us at [email protected]. We're here to assist you and ensure your VPN tunnel setup is a success.
---
Was this article helpful?
---
What's Next