This article describes how to configure a custom DNS. Make sure
Custom DNS will enable you to reach an internal resource by it's hostname (as published by your local DNS server). This can ease your workflow, as you will now longer need to specify the resource's IP address.
Note
Do not configure a public DNS server, as by default your traffic will be routed through one, in case the private DNS server are not able to resolve the address).
Selecting a Custom DNS
You can assign a Custom DNS to the selected Network (the default is Automatic). This will allow you to utilize your organization's DNS servers, as well as local domain names. You can choose to either obtain a DNS server address automatically or select a primary and secondary DNS address manually.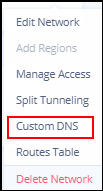 After defining the custom primary and secondary DNS addresses, this information will be highlighted on the Networks page.
Good to know
If your DNS server does not have a public IP address, set up a site-to-site connection to the network containing the server, and enter its internal address.