Share feedback
Thanks for sharing your feedback!
Adding an HTTP/HTTPS Zero Trust application
This article describes how to configure an HTTP/HTTPS connection to a remote web page.
Go to the Applications tab in the Management Platform. Select Add application.


Fill in the following information:

Application Name: Enter a name of your choice.
Protocol: HTTP/HTTPS
Icon: Use default or choose an icon of your choice.
Host: Enter the internal IP address (if custom DNS is configured you can

alternatively enter

the hostname) of the server to which you'd like to connect.
Port: 80 for HTTP or 443 for HTTPS.
SSL Certificate Validation (HTTPS Only): Once you

enter

an SSL Certificate, if you tick this box, the application will be accessible only as long as the SSL Certificate is valid.
Network: Choose the network that contains the gateway from which you created a tunnel to the environment that hosts the server you'd like to connect to.
Add Start URI (Optional): Enter a subpath to which the user will be directed once launching the app.
Example: If you entered www.perimeter81.com as Host and /careers under the URI, users will be directed to www.perimeter81.com/careers when launching the app.
Display Application Icon at Login Screen: Choose according to your preference.
URL Alias (Optional): See further instructions here.
Custom HTTP Headers: Mandatory in case you entered an explicit DNS as the host parameter
Important:
Some web browsers fail to display graphical components in the destination HTTP(S) page if a host header is missing, so it is advised to configure a custom header in any case (in the Name field enter Host; at Value field enter your internal FQDN).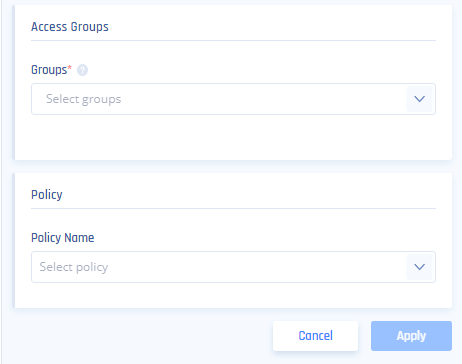 Access Groups: State the names of the user groups which will have access to the HTTP application.
Policy: Leave blank, or choose a policy that was previously created and matches your needs.
Select Apply.
To connect to the application enter the application FQDN in the URL line of your browser or connect through the platform.
---
Was this article helpful?
---
What's Next