Identity Providers (IdP)
This article describes how to make secure login and policy-based access easy, with seamless Single Sign-On (SSO) integration with most industry-standard identity providers (IdP) so that you can onboard your entire team with total ease.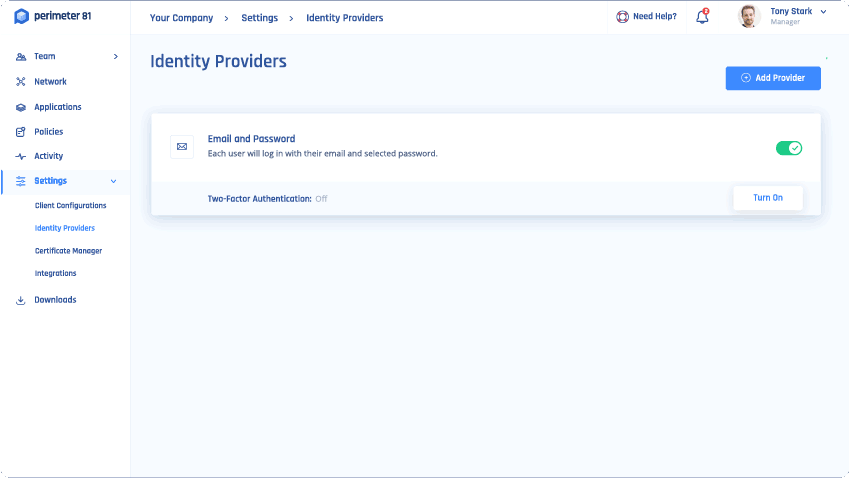 More importantly, integrating an Identity Provider and SSO makes for a safer and more user-friendly access policy:
Increase productivity by giving employees single-click access to all the resources they need to succeed.
Manage risks to your network by preventing employees from using their best judgment when it comes to password habits.
Reduce the burden on your IT and Help Desk employees who no longer need to retrieve or manage company credentials.
Prevent former-employees or vendors from accessing any company resources by removing their access rights in one centralized location.
You can integrate various third-party identity providers such as:
G-Suite / Google Cloud Services
On-Premise Active Directory (LDAP)
Microsoft Azure Active Directory
SAML 2.0 Identity Providers (OKTA, OneLogin, ADFS, etc.)
Integrating with an IdP
To integrate an Identity Provider into the Perimeter 81 platform, select Settings in the Management Platform on the left side.


2. Select Add Provider.
A list of Identity Providers displays. Select your desired Identity Provider and select Continue.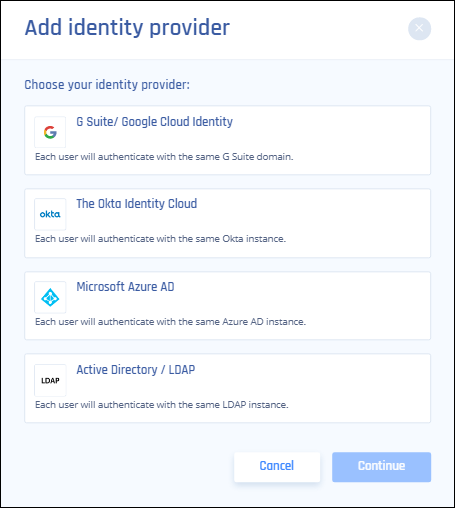 The default setting is that all Identity Provider users can log into Perimeter 81.
If you would like to limit Perimeter 81 access to specific Identity provider groups, you can do so by selecting the lock symbol next to the name of your Identity Provider.

Select the different groups that you'd like to give Perimeter 81 access and select Save.